Safe Area and AFD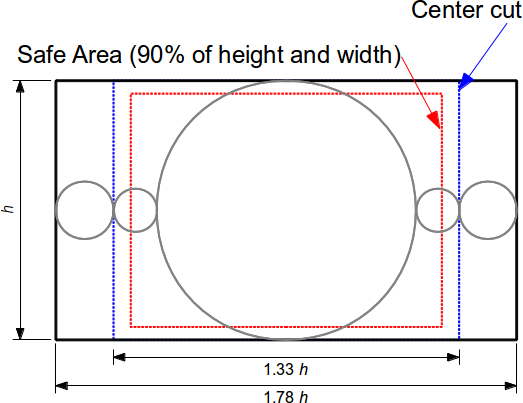 Active Format Description, or "AFD," is a code that can be embedded in television transmissions to tell the equipment at cable systems and satellite providers how to down-convert high-definition video for viewers with standard-definition TV sets.
When the critical content, such as titles, is within the "safe area," the broadcaster can set the AFD to 1001 to signal to the cable or satellite provider to "center-cut" and fill 4:3 screens from top to bottom:
Source
Aspect Ratio Properties
AFD
HD Television (16:9)
Down-convert (4:3)
Source Format 16:9
Active Region 4:3
1001 or 9
When the broadcaster airs material that has critical content, such as titles, outside the safe area, it can set the AFD to 1010, which signals to the cable or satellite providers to shrink the picture so the entire width of the wide-screen 16:9 picture fits within the 4:3 display. This produces a black bar at the bottom and top of the screen. The reduced picture height results in reduced vertical resolution for viewers with 4:3 screens.
Source
Aspect Ratio Properties
AFD
HD Television (16:9)
Down-convert (4:3)
Source Format 16:9
Active Region 16:9
1010 or 10
Most cable and satellite providers use the AFD signal but the broadcaster does not control this and can't guarantee that every provider will follow it. Also, some viewers use set-top boxes to receive 16:9 broadcasts and display them on 4:3 screens and may not use AFD. If the material absolutely must not be cropped on any screen, it could be shrunken to fit within the safe area and provided with black bars on all sides:
Source
Aspect Ratio Properties
AFD
HD Television (16:9)
Down-convert (4:3)
Source Format 16:9
Active Region 4:3
1001 or 9
If the AFD is set for 1010 when the image is shrunken to fit in the safe area, the image is very small on the screens of 4:3 sets:
Source
Aspect Ratio Properties
AFD
HD Television (16:9)
Down-convert (4:3)
Source Format 16:9
Active Region 16:9
1010 or 10
---