[Montclair High School class of 1971]
THOMAS MITTELSDORF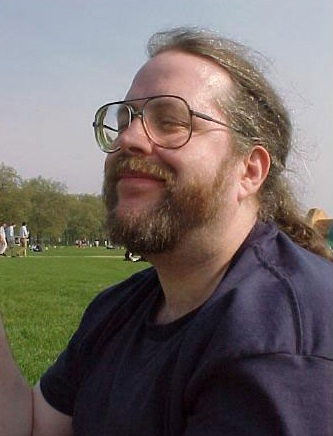 Tom Mittelsdorf had a hemorrhagic stroke on May 10th, 2005. He spent several weeks in intensive care, several more in critical care and on June 16th was placed in a nursing home for rehab. He passed away July 7th, 2005 in Ohio. His family was informed of his whereabouts as a result of his death only hours after he passed away. These images were provided by his partner Ann.

Tom and Ann met in London and were together for 6 years (approximately 3 years in London and 3 years in Ohio). Tom was still working as a computer consultant but had had changed his identity to "Ben Thomas." In approximately 2001, he returned to the US by freighter ship to live with Ann in Ohio. Tom never revealed to Ann why he changed his name or details of his past. She told us that while they were together he was a wonderful, quirky, talented, loving man.

I want to thank all of Tom's friends, especially John Neuhaus, who as a result of our meeting at our last Montclair MultiYear Reunion, generously created and maintained this stunning web page for Tom, which in turn enabled Ann to find us. Unfortunately, we may never know why Tom (Ben) decided to do what he did and his story will always remain a mystery. We are blessed to have found out that he was happy and loved.

Sincerely,
Carol Mittelsdorf
And on behalf of my parents, Joseph and Lillian and my siblings: Mike, Chris and Sandy.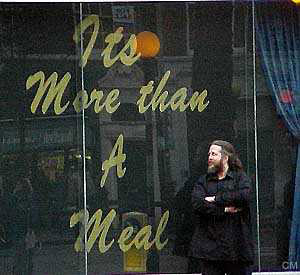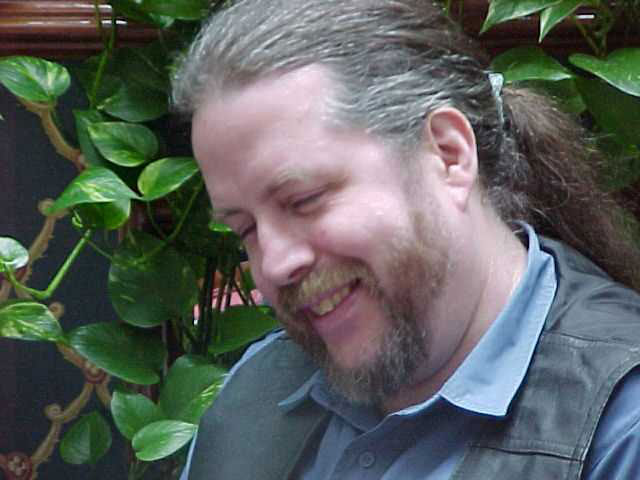 Tom's sister, Carol Lee Mittelsdorf, < carol at mittelsdorf.com >, provided the information below about the family's attempts to find him and their memories of him. This was the web page that led Ann, his partner, to contact Carol, his sister, after his death.
---
Born: Feb. 4, 1954 in Newark, NJ.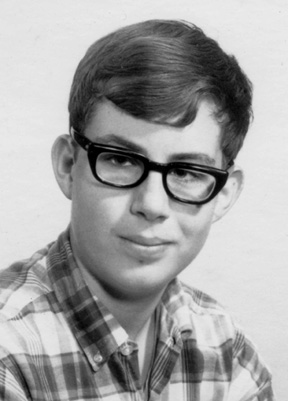 November 1972 - age 18, he was 6 foot 4 inches tall weighed 175 pounds, Brown hair, blue eyes. Wore glasses. Montclair HS Graduate 1/71 & RCA Inst. NY 1971.
November 1972 - Went to England to work for Peter Marsden, Regent House, 23Victoria, Berkshire, S64 1, ME. Rented room; Mrs. Astrid Curtis, 12 Baskerville Rd. Wandsworth Common, London, SW-18. Worked at Magnegaph Recording Co. Ltd, I Hanway Place, Oxford St., WI (Installing Closed circuit TV in the London area)
March 1973 - Worked as sound technician for E.G. Management Co., 63A Kings Rd., London SW. (They booked tours for musical groups) We received post cards from Italy, Switzerland and France. Received a letter from Mrs. Astrid saying that Tom had left on a tour with "Pink Floyd".
1973 to 1977 - Made extensive searches thru the Salvation Army, London Embassy, FBI, US Immigration, Social Security, English phone books, Episcopal Church, Scotland Yard and advertised in English papers and trade magazines.
December 77 - Received a phone call from Rosemary Clark, 20 Nutwell St............ London, SW 17. She said Tom lived happily with her for 3 to 4 years and often spoke of his family in the USA. He worked in electronics, volunteered in a hospital and was trying to start his own recording studio. He left with no forwarding address, but she thought he was in Yorkshire. This was the last actual news we have of Tom.
June 2000 - Tom would now be 47 years old. Most of his life included music. (He had perfect pitch, played the organ and piano well. He was a loner and was brilliant in understanding electronics, computers, TV, and sound recording. He was in demand at an early age by many people, but he would only work on things that challenged him. As the Salvation Army Missing Persons Bureau wrote, "due to his very transitory life style and varied interests he has proven impossible to locate." Any helpful suggestions to help us locate him would be accepted thankfully!
---
Chronology regarding Tom Mittelsdorf
MISSING PERSON: THOMAS MITTELSDORF
Born: February 3, 1954 in Newark, New Jersey
Baptized: April 17, 1954, Grace Episcopal Church, Orange, NJ
Description:
Height: 6' - 4" Weight (in 1972-74) - 180+ pounds,
Hair - brown, worn long (in 1972) - to collar,
Eyes - blue,
Wears glasses and sometimes a small mustache,
Selective Service Classification - 1-H.
Education:
Graduated Montclair High School, January 1971
RCA Institutes, New York City, September-October, 1971
Employment:
1969

Montclair Printing Co., Montclair, NJ

1971

Montclair Board of Education, Montclair,NJ
Automation Controls, Montclair, NJ
Magnetic Recording Co., Paterson, NJ
Planetarium, Newark Museum, Newark, NJ

1972

Variety Recording Studio, New York City, NY
Ron Globus, Museum of the Media, New York City, NY
B&B Productions, Newark, NJ
Frank Johnson, Mgr.-Rock Concert, Montclair State College
Coop Association, Inc., Montclair State College
Music Box Sound Studios, Montclair, NJ
Experience:
While attending high school, Tom secured working papers to work in the Montclair Printing shop. His interests included 8-track sound recording, photography, computers, and he played piano, organ, harp and synthesizer. He worked for Montclair High School computerizing a student directory and class scheduling. In Paterson, he installed components of sound systems for customers. At the Planetarium, he helped install a 360 degree-projection system that synchronized sound track with projected images and was a part-time projectionist.

In 1972 he became a recording engineer (making records) and also helped set up sound equipment and ran lighting panels for concerts.
Chronology regarding Tom Mittelsdorf
While working for Museum of the Media, Tom worked on an exhibit for the Department of Commerce, and monitored the equipment while it was on display in Washington, DC. The unit explained the use of container ships in United States. When this exhibit was to be shown in Leningrad, Russia, Tom helped adapt it for use with Russian commentary. In September 1972, it was part of a Transportation Show in Leningrad, Russia and Tom was asked to fly there and serve as a Technician with the United States exhibit. He stayed on duty there Sept. 1 through Sept. 22 keeping the equipment running smoothly and became friendly with the technicians for the English exhibit.

Upon their invitation, he stopped over in London for two weeks on his way back to the States. While there, he was hired by Peter Marsden (Windsor 51966-9) to work for Eurotel, Regent House, 23 Victoria Street, Windsor, Berkshire S641 ME. He arrived back home (256 Valley Road, Montclair, NJ) on October 8, 1972, and discussed the job opportunity in the U.K. with his parents. He was authorized to hire an assistant to work with him in London, and chose a friend, Dave Peterson.

They left USA on November 2, 1972, and together rented a room from Mrs. Astrid Curtis, 12 Baskerville Road, Wandswerth Common, London, SW-18. Their place of employment was Magnegraph Recording Co., Ltd., 1 Hanway Place, Oxford Street, WI. This was a division of Eurotel which had as Directors N. Moore and A. S. Blaikley, telephone 01-580 2156. Tom installed closed circuit TVs in the London area.

We wrote letters to Tom, but received none in reply. We did receive a Christmas card in December 1972. His friend, Dave, came home to Montclair for Christmas and Tom sent a suitcase through with Dave that contained presents for the whole family. Dave returned to London for a while. When Dave's visitor's visa to the U.K. expired, he returned to USA on March 26, 1973. Since we had not received any news from Tom other than the Christmas card and presents, we invited Dave over to tell about their life in London.

They shared a "flat" and worked in the same place in the beginning, making about $78.00 a week each. This was bare subsistence, so Tom changed jobs and Dave decided to return to the States. For the last three weeks they were on different schedules and didn't see much of each other.

Tom started his new job on March 12, 1973, and worked as a Sound Technician for the E. G. Management Co., 63A Kings Road, London SW 3, (Chelsea District), which booked musical groups touring in England and on the Continent.

The following chronology is a record of contacts regarding Tom and his movements, as much as we could track down:
4/1/73

Dave Peterson spoke to Tom on the telephone regarding an instrument, Melatron, that Tom bought in London for the Variety Studio in New York City.

4/4/73

Postcard from Reggio, Italy

4/6/73

Postcard from Rome, Italy

4/8/73

Postcard from Zurich, Switzerland

4/10/73

Postcard from Paris, France

5/28/73

Letter addressed to Tom at our Montclair home from British European Airways billing him for a one-way ticket from London to Paris, $34.31. We returned this to the Airways office in London, advising that we had no current address and suggesting they try E. G. Management.

5/31/73

Letter to us from Tom's former landlady, Mrs. Curtis, "... You probably know that Tom was traveling for a while with a musical group. He returned to my place in London before Easter and left 5 May. He left owing me 20 pounds and since I have not heard from him thought he might have returned home. If he has, would you be kind enough to ask him to send me the money as soon as possible ..."

6/5/73

We mailed Mrs. Curtis a check for $54.62 to pay rent due asking that she contact us if she heard from him.

6/13/73

Received another letter from Mrs. Curtis, "...Just after I had sent off my letter to you, someone telephoned here for Tom. It seems Tom is still in this country and has been or is working for another music group called The Pink Floyd. This is the only information I have. ..."

6/23/73

Ad in Newark Star Ledger (newspaper in Newark, NJ) for Pink Floyd concerts in United States:
6/17/73 Roosevelt Stadium, Jersey City
6/26/73 Lake Spivey, GA
6/27/73 Jacksonville then Miami, FL
6/29/73 Tampa Stadium, FL then back to London While this group was in the United States, we tried to contact them to learn if they employed Tom, without success. We spoke with someone in the office of Mr. Allen Frye, who managed the Pink Floyd tour in USA (telephone - 201/671-6660) and learned Mr. Frye was associated with Monarch Entertainment Bureau, East Orange, NJ. That office gave us a contact address in England: Ms. Eleanor Angel, Secretary, Pink Floyd, c/o EMKA, Ltd., 69 New Bond Street, London W-1. We wrote a letter of inquiry, enclosing a letter to Tom to be forwarded if they learned where he could be reached. Received no answer.

11/9/73

Contacted the American Consul, London, for information regarding our son, Tom.

11/20/73

Received answer from John J. Degan, Consul, USA saying in part "... We have been advised that he left E. G. Management about May, 1973, and is now working at Global Village, 180 Hungerford Lane, London, W.C.2. The person to whom we spoke said he would be going to Global Village tomorrow evening and would ask Thomas to communicate with you. ..."

1/11/74

We wrote to the Consul and asked that he check with Global Village again, since we had received no word from them since his first letter.

2/12/74

Consul Degan replied his Embassy wrote Tom by registered mail on Jan. llth but received no reply. "... We telephoned the Manager of Global Village, Mr. Robinson, who stated that your son no longer works for him, but he had spoken to him on the telephone about two weeks ago, at which time he appeared to be in good health. Mr. Robinson also stated that they have held our letter in order that it could be handed to Thomas next time he calls in at Global Village. ..."

3/22/74

visit to St. James Episcopal Church, Montclair, NJ by Bishop Donald Coggan, Archbishop of York. We spoke to Mrs. Coggan and gave her Tom's former address in London to see if she could contact him for us. In April 1974, we corresponded with Mrs. Coggan, Bishopthorpe, York, England. She had made inquiries through the Salvation Army in England and they wrote to us as follows:

4/18/74

Letter signed Bramwell Pratt, Brigadier, Assistant Investigation Secretary, Salvation Army Investigation Department, 110 Middlesex Street, London E.I. "...We are therefore writing to assure you of our willingness to try and assist in tracing your son and may we ask you in accordance with our usual procedure to contact the Salvation Army Headquarters in New Jersey where all particulars concerning this inquiry will be received. Our colleagues will then pass on all the essential details to us here in London and we will reply when our work is complete through our colleagues in New Jersey. The address is: Major Mary Jane Shaw, The Salvation Army, 120-130 West 14th Street, New York City, NY 10011 USA. ..."

May, 1974

Contacted Missing Persons Bureau, Salvation Army, New York City (telephone 212/243-8700) and gave them Tom's old London address and information relative to his employment in the U.K.

8/5/74

Checked with the Salvation Army, NYC. Nothing new. Aug. '74 Learned that our Church Organist, Russell Hayton, was going to tour England and asked him to try and trace Tom or follow up on the Salvation Army's investigation. On his return to USA, Russ said he contacted Maj. Smith, who told him the investigator assigned to the case was Brig. Charles Wood, retired Salvation Army officer, now following up on missing persons. Russ supplied his card which gave his telephone number as 01-553 0222 and address, 11 Grosvenor Road, Ilford, Essex.

9/3/74

Telephone call from Major Shaw, Salvation Army, NYC, 212/243-8700, Ext. 3394, requesting Tom's birthdate.

9/9/74

We wrote Consul John Degan to ask him to follow up on the investigation by the Salvation Army.

10/25/74

Reply signed by Ms. Cella, Vice Consul, USA, London, who had contacted Brigadier Wood. "... Unfortunately, the Salvation Army has been unsuccessful in locating him. A check with. British Immigration records has proved negative. ..." They suggested we hire a private detective agency, sending a list of recommended agencies in London.

1/14/75

Contacted our U. S. Representative Joseph G. Minish, who referred us to the London Embassy of the USA. Negative. Checked the U. S. Social Security Department and learned there were no entries since 1972 in Tom's account.

10/75

Received a Salvation Army report "Brigadier Wood spent many hours in correspondence, telephoning various Authorities and Record Offices, as well as making personal visits to a number of addresses ... the Brigadier pressed on, although he was fighting a losing battle knowing that the way of life Mr. Mittelsdorf had led would cause him to move about frequently, never staying in one place for any length of time ... two approaches were made to Goverment Records Departments where Mr. Mittelsdorf would be registered had he been in normal employment ... it is evident the son does not hold down a regular job if he is still in this country."

11/75

Contacted New York City office of the British Consulate asking if they had any knowledge of his whereabouts.

11/75

Received negative reply.

Jan.'77

When our neighbor's daughter was traveling to London, requested that she secure the name of a magazine she thought Tom might read.in U.K. and she brought us a copy of "Sounds".

Feb. '77

Placed ad in "Sounds" magazine for 26 insertions from

1/21/77 to 4/15/77

"TOM MITTELSDORF, Information regarding whereabouts urgently needed. Soundvideo engineer from USA, age 23, Box No. 4864."

Mar.'77

Secured photocopy of Tom's signature from Montclair Savings Bank to use if we received any replies to ad.

10/24/77

Contacted FBI requesting they check their records for any fingerprint record or mention of his name. Requested his description be added to their national Missing Persons List.

11/3/77

Reply from FBI, Clarence M. Kelley, Director, Washington, DC stating no information found and missing person notice added to Identification Division files.

11/8/77

We telephoned British Consulate, New York City to see if any further data had been learned. Negative.

11/10/77

We contacted Department of State, Washington, DC for information they might have on Tom's whereabouts.

11/16/77

We received a form reply indicating his passport was issued in New York City Sept. 1972 with a Visa for Russia picked up in Washington, DC.

12/17/77

Received telephone call from Rosemary Clark, 20 Nutwell Street, London, SW 17, telephone 01-767-1839, asking if Tom had returned to USA. She had known him for three years and she wanted to know what to do with his belongings left in her apartment when he moved in February, 1976.

12/19/77

We called British Consulate, NYC, who will contact Home Office, telling them of Ms. Clark's call and information.

12/19/77

We wrote Ms. Clark detailing Tom's movements in 1972 and 1973 and asking for any further information she could give us about his life in England.

1/24/78

We received a telephone call from Vice Consul McKellar, British Consulate-General, NYC, 212/752-8400, Ext. 300, saying he had received a letter from the Home Office about Tom's passport status and extension applications. Tom received his passport 4/19/73, got a short extension (2-week, 30-day) and left passport 5/14/73 asking for a 60-day extension. This was granted and mailed to him, but returned because he moved. In August 1974, they sent a notice to (British) Police Gazette asking about Tom Mittelsdorf -- negative response. On 12/16/75, they sent the passport to the U.S. Embassy, Grosvenor Square, London, for their action.

1/11/78

We received a letter from Ms. Clark from which I quote in part. "... I met Tom in about May 1973 ... he was working for The Pink Floyd pop group at that time ... he worked mainly in the electronic field ... he worked for a firm making mini computers ... for a while repairing TV and electrical equipment for a shop. Up until the time he left London he was involved in building a recording studio. In September 1974, I bought the flat where I am living now (I am a nursing tutor) ... Tom moved in with me and helped me with repairs and decorations (it was in fairly poor state when I bought it). He drew plans etc. for the grant application for home improvement ... He was also involved in the Hospital Voluntary Radio Service which broadcasts from the hospital to patients in the hospital wards ... I last saw Tom in Feb. '76 ... he had found somewhere to live in another part of London ... Afterwards various friends called me to get in touch with Tom and at Easter, 1976, some friends received postcards from Tom in Yorkshire-the three years we were together was a happy time for me and I think for Tom too ... he was quite well when I saw him last. He often talked about his sisters and family ..." She enclosed a snapshot taken of Tom visiting Stonehenge in Salisbury, Wiltshire.

2/6/78

We replied to Rosemary with thanks for her letter, asking her to let us know if she heard from Tom.

3/23/78

We wrote letters to the Salvation Army, NYC, and British Consulate, NYC, advising them of the information we had received from Rosemary Clark.

3/18/78

Received letter from Timothy I. Moore in answer to our 1977 ad in "Sounds". He thought someone was trying to reach him about a possible job.

April'78

Renewed ad in "Sounds". No tear sheet of ad received.

6/5/78

Requested help of U. S. Embassy, London, to verify those ads did appear from 1/21/78 to 4/15/78.

?/21/76

Consul Alec M. Pelter checked and replied that these ads did appear.

July '78

Salvation Army notified they were closing their file.

9/30/80

FBI, Washington, DC notified they were removing Tom's name from their records since the Missing Persons Program had been discontinued and he was over 21 years of age.

Feb.'86

Upon retirement, we moved to our present address. In preparation for this change, we held a sale of surplus items. An Englishman, Guy D. Story, purchased our WW II Marine Corps Uniforms and took them to England for use with historical reenactments. Our daughter, Carol, mentioned to him that her older brother was missing in U.K. and Guy Story said he would try some fresh ideas of finding Tom. He wrote Carol that he had put Tom's name on the Police National Computer in England and also contacted a TV program shown in England called "Surprise, Surprise."

10/31/88

We wrote a letter of inquiry to British Immigration and Naturalization in London to see if any more current entries were in their files than those details we knew.

6/20/89

We received a letter from L. Fleming, Home Office I&N, that "there has been no contact between your son and this Department since our unsuccessful efforts to trace him in 1978." They forwarded our inquiry to the US Embassy, London.

6/26/89

We received a letter from Consul Jeffrey W. Garrison, US Embassy, London, that they would enter his name in their lookout files and if he comes to their attention, would ask him to contact us.

Jan.'90

While visiting Washington, DC, we checked the current telephone directories of the U.K. thinking Tom might have one listed. Negative result.

July '90

We received a letter from Jim Moran, South Yorkshire, Historian and Collector of data on US Marine Corps. He had purchased our WW II uniforms from Guy Story and wanted to know if we could supply him with additional uniforms and details of where and when Lillian Sandy and Joseph Mittelsdorf served in the USMC. He offered to pay for these items. We sent him more service issue items and in payment, requested his efforts in trying to help us locate Tom. He wrote that he contacted " ... the Inland Revenue Division but they have no record of Thomas Mittelsdorf. This means in effect either: 1) Thomas left England without registering, 2) Is working for cash only (highly unlikely), or 3) Is registered under another name" ... "writing on your behalf to National Radio to put out a request, also to the British Red Cross as they also attempt to trace missing persons"..."I will also put an ad in Musical Express (National Music Newspaper) ..."

Oct.'90

We wrote to Marilyn Greene, author of "Finder" asking her advice on how to locate our missing son. She recommended a current inquiry to any former contacts in London. We wrote again to Mrs. Curtis and Ms. Clark with no replies.

1993

Gave information to Lacey Township Police Chief to add Tom's name to listing on Interpol.

June '95

Sent full information on our search to date to the Missing Persons Section, Mormon Church, Temple Square, Salt Lake City, Utah, 84100.

Dec. 2,1996

Carol's friend, Mr. Robert S. Keefe posted a notice on the Internet's "Missing Adults" page about Tom.
---
October 4, 1999
MEMORIES OF THOMAS MITTELSDORF BY HIS DAD
Born: February 4, 1954 at Presbyterian Hospital, Newark, NJ. Our first child.

Parents: Lillian Sandy Mittelsdorf and Joseph Mittelsdorf Both 31 years old (in 1954).

Brought home to 81 Whittlesey Avenue, West Orange, NJ

Tom had an eye defect (lazy eye), the same as Grandpa Sandy, which was successfully corrected when he was 18 months old. This caused him to have poor depth perception. This made it difficult for him to catch a ball since he could not judge the speed of the ball.

He had an early talent for playing simple tunes on a toy piano

When Tom was in second grade at Washington School in West Orange, one day Lillian got a frantic call from his grammar school teacher that upset her. We made an appointment to see the school principal and learned (for the first time) that Tom was not a typical child for his age group. The principal said the teacher probably had never encountered a child like Tom and she was frustrated because he did not behave like a typical student. He did not need repetitive instructions to absorb what was being taught and he was bored with his class work. The principal suggested that we consider skipping him one grade (from second to third grade) to make learning more of a challenge to him because of his high I.Q. in all areas of learning. He warned us that this would put him in a class with older students. The principal said he had never skipped a student in all his life, but he had never encountered a precocious child like Tom.

The principal told us that his teacher would get upset with Tom when he did not pay attention to her instructions. Instead he would help the slower students learn instead of completing his own work and ended up getting sent to the principal's office frequently. In order to keep Tom busy, he used him as a messenger carrying notices from the PTA to the classrooms. Tom read the notices he was delivering and found errors in the typing. When he questioned the principal why he was sending out poor notices, he said he had to explain to Tom that an inexperienced parent typed them and that the school was not to blame.

We purchased an electronic organ for Tom when he was eight years old and he was soon playing songs without written music, using foot pedals and all. Lillian thought he would do better with his music if he took private piano lessons. She would attend classes with him and practice the same homework he was assigned. She struggled with the assignment and practiced diligently.

At the following lesson, he played the required pieces perfectly (without any practice) and the teacher would comment on his skill and say, "You must have practiced a lot." He told us Tom had "perfect pitch".

One Sunday morning Tom was sitting at the organ playing a pretty song that was not familiar to me. While playing this, he was reading the Sunday comics! When I asked him what he was playing, he said it was background music from the movie we saw last week.

His sisters were dancing in a Christmas program at the Community House and during intermission, Tom played Christmas Carols on the piano and "hammed it up", even though he wasn't supposed to be performing.

Another year we took all-the children to the Christmas party at the Bloomfield Masonic Lodge and they had a large organ which Tom wanted to play. I got permission for him to play on it and he immediately started playing Christmas music and got a great response from everyone.

Three sisters were added to our family: Sandra Marie, born prematurely March 27, 1957; Christina Ann, born November 12, 1958; and Carol Lee, born December 14, 1960, while we were living in West Orange.

I built a bedroom for Tom by enclosing the front porch and added a Dutch door to separate it from the living room. Tom would spend hours entertaining his sisters with hand puppets (which Lillian made) to tell the story of the three little pigs and the wolf and others. I fitted out the lower half of the Dutch door with scenery and a curtain to make it like a puppet theater.

We sold our West Orange home in 1964 and bought a 6-bedroom. house at 256 Valley Road, Montclair, with a huge backyard adjoining Edgemont Park, and in view of Edgemont Grammar School.

For his 12th birthday, I took Tom to Manhattan to see the Broadway show, "Ben Franklin in Paris", starring Robert Preston. After the show, he asked to walk down to the orchestra pit to see the musicians who were still playing as the theater emptied. After all the audience had left, some of the orchestra started "jamming" and talking to Tom. I was fascinated. They turned on all the house lights, opened the curtain and started cleaning up. When we were asked to leave, Tom wanted to go around to the stage door to meet Robert Preston and get his autograph.

We found a lady and her 12-year-old daughter waiting outside the stage door. Tom knocked on the door and asked if he could go in. The man said "OK" to him and left the three of us outside, explaining that was all he could allow in. In a few minutes Tom came out with the leading lady who thought he was wonderful and then Robert Preston came out and signed the programs and talked to all of us. Tom taught his Dad how to do Broadway! I offered Tom his choice of New York restaurant and he selected a Chinese one (he loved fried rice). He asked for a glass of milk with his meal but the waiter told him they only had tea or Coca-Cola. Again he said he wanted milk. The waiter answered in a loud voice, "NO MILK IN CHINESE RESTAURANT". Tom laughed and often mimicked the waiter whenever his sisters asked for milk at home.

When Tom was attending Hillside Middle School. They had an assembly program that was staged by a Montclair couple. It was a musical show and demonstration featuring a troubadour harp. The inventor of this miniature harp was a resident of Upper Montclair. His wife, Rosalie Pratt, taught harp lessons and they had two daughters about Tom's age. Tom was intrigued with the instrument and asked if he could take lessons. We went to Mr. Pratt's home to inquire about it. He was a very interesting craftsman with many talents. He had a workshop in his home where he made the troubadour harps and also built harpsichords (an antique, piano-like instrument) . He was an artist in his precision and craft. I was very interested in his work and we struck a common ground in our love of woodworking.

During our long and friendly visit, he tried to convince me to co-partner a project to build an airplane. This was to be a real flying airplane, not a model. While we were visiting, he was hand scrolling an intricate rose in the top sounding board of a harpsi-chord. He was very outgoing and sang while he played the harp. The purpose of his visit to Hillside School was to promote the sale of his troubadour harp and enroll students in his wife's class.

We started Tom in the lessons, but the class lesson fee and rental cost of a harp was pretty high. Later we spoke to Mr. and Mrs. Pratt about our concern and both of them agreed that Tom was doing so well they would lend us a harp free of charge. The harp students were invited to play at Carnegie Hall in New York City for a music teachers' convention and their parents were invited for the program. Tom was the only boy student with about eight girls. When Mrs. Pratt introduced the group, she was standing in front of the seated students. She spoke about the instrument and about how much time "her girls" had practiced. Tom immediately began to "mug" and point to himself, which caused laughter in the audience. Mrs. Pratt continued to talk, unaware of the clown behind her, and could not understand the source of the laughter. After she mentioned "her girls" a second time, she turned around to see Tom's antics. She laughed and apologized, then introduced "her boy" Thomas.

When walking to Hillside School, Tom passed the Bell Telephone building at Bloomfield Avenue and Valley Road. The company service trucks parked in the rear of the building on Valley Road. There was a small Dempster-dumpster in the backyard where the service men discarded old telephone equipment. Tom brought some old telephones home and I showed him how to hook them up as intercoms. He was always bringing home outdated or damaged service manuals and he was reading them. This all fascinated him and he was soon hooking up relay boxes and multi-button office telephones together. After we were notified of unconventional hook-ups on our phone, I insisted he get his own phone and pay for it, which he did. He was about 13 years old. Periodically the telephone service man would come and say, "I am disconnecting Tom's line; tell him to clear it up". This never fazed him. He would make changes and get back on line. He got along well with the service men and they seemed impressed with his knowledge of the telephone systems.

Years later when he returned from his Russia and England trip, he was making calls to his friends in London. I mentioned they would be expensive. He said he was not being charged for them. I thought he was doing something illegal and told him to stop. He said that the Phone Company allotted so much time for ringing a phone and that they did not start charging until your party picked up their phone. He said he only talked the allotted free ring time and he blocked the "pick-up" signal. I still felt this was fraudulent and asked him to stop. He left shortly after that for England.

If you picked up his multi-buttoned phone it was always playing Restaurant "Muzak" music which he listened to when he went to sleep. Tom learned about "Muzak" from an eccentric man who lived on Valley Road, Upper Montclair. This man made some kind of a "Black box" that enabled you to tap into the "Muzak" line. He was sued for this but won a dismissal by saying he did not control what people used his device for. Neighbors complained about the condition of his house and the town ordered him to paint it. He painted it RED! They complained about his parking cars on his front lawn and the town passed an ordinance that you could only park on pavement. Then he black topped his front lawn! Tom liked this man.

We had developed a good rapport with Tonnes Stave, the principal of Montclair High School, who was aware of Tom and liked him a lot even though he was a challenge for his teachers and the general school system. Once when Tom was absent from school for a few days with a bad cold, I received a call in the early evening from Mr. Stave inquiring about Tom's well being as he had a task for him. Tom talked to him and invited him over. Mr. Stave brought over a box full of circuit boards and wires and asked Tom to wire them for the school computers, as no one at the school knew how. While Stave and I were drinking a beer in the kitchen, Tom wired the boards while he watched a TV program. I asked Stave if he knew that Tom had failing grades in his computer course? He said he was not surprised, because Tom would not follow the teachers' requirements and the students would all come to Tom for help. He would solve their problems but not his own. Some time later the principal called and told me that Tom had taken a state test given to all the students and he failed 100% of the questions. Mr. Stave said this was impossible to do unless Tom knew the correct answer to every question. When I asked Tom about this, he said it was a stupid test and he had no use for it. I lectured him about complying with what it was necessary to do to get along in this world. I told him that some day the person who developed that test might be the one he would apply to for a job. His answer was that he would not work for a person who asked people those kinds of questions or judged people by that type of test. I also tried to convince him that earning good grades in high school would be important to his future. The next day he brought home an Official report card from Montclair Board of Education showing all A's and perfect attendance for Tom Mittelsdorf. He was proving to me that records and tests were not always a good measure of intelligence. Then he destroyed the falsified report card.

He was hired by Montclair High School to run an IBM program after school for 50 cents an hour. He was allowed 2 hours work per day. The machine was rented from IBM and set to work at a limited rate of speed. After a while an IBM service man came into the high school to check on this machine. He complained to Mr. Stave that some one had changed all the settings by opening the back of the machine. Tom was immediately called in and showed them what he had done. He speeded up the machine to do all the work in much less time (depriving himself of wages) . He was reprimanded, but Mr. Stave was told that what he had done was ingenious. The local banks had called the high school asking them to recommend bright students to work on their computers, but Mr. Stave said he was afraid to recommend Tom.

Tom had a great sense of humor. One summer while we were camping at Cherrystone Campground in Virginia we enjoyed fabulous fishing from our canoe. Being frugal, all our menus were dominated by seafood: clams, fluke, weakfish, crabs and oysters. Lillian and I were content with our inexpensive meals, but didn't realize how monotonous they were. One afternoon when we had been away from our campsite for a short while, we returned to find an organized strike group marching around our camper. Tom had stapled paper plates onto sticks with "STRIKE" printed on them and had his three sisters marching around and chanting, "WE WANT MEAT, WE WANT MEAT, WE WANT MEAT...- It caused a lot of laughs throughout the campground. On another camping trip to Expo 67 in Canada , we were parked in a former potato field after a wet, rainy week. In order to get from our Volkswagen bus parked on the road to the camper parked in the mud, I decided to carry everyone using a 2X4 to bridge the muddy site. I carried the kids first, then returned to get Lill piggyback. About halfway to the camper we heard a chorus of "Here comes the bride" from the kids -- I nearly dropped Lill, both of us were in fits of laughing.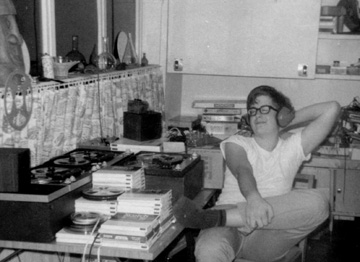 Tom loved Halloween, and produced many scary set ups on our front porch and front yard. He made tapes of music played backwards and at various speeds to make spooky sounds. We had wires from our porch to the limb of our front tree, by the sidewalk, that we "shot" ghosts on, made out of a, baseball in a sheet. It was so scary that the trick or treaters were afraid to ring our bell. He had a large collection of wire recorders, reel to reel, microphones and strange equipment on the porch. His room was equally packed with "stuff". He copied barking dogs singing carols and Yorgi Yorganson singing "I yust go nuts at Christmas" and Yingle Bells" and gave them to friends for Christmas. He spent a lot of time in NYC on Canal and Mulberry St. shopping for old and discarded electronic gear. He learned of this source by listening to Gene Shepard, a late night radio host that told stories. Tom was fascinated with his stories and would have his radio on under his blanket listening to the show, 11 to 12 PM. Tom sent Shepard a tape of weird sounds he recorded (striking a steel guy cable on a tower, etc) and Shepard played it. Shepard was scheduled for a show at Montclair State and Tom and I went to it. Shepard was great and after much applause said he could not hang around for autographs because he had to leave quickly. Tom asked to try and returned with an autographed book by Shepard saying "to big Tom" signed Gene Shepard.
We made a family trip to NY Natural History Museum and went in to see the planetarium show. After the show the narrator answered a few questions and the announced that he would stay awhile to answer specific questions from anyone. Tom wanted to ask him something so we went forward with a small group. Tom's question was "How much do you get paid at this job?" The man laughed and said "Not enough". I asked Tom why he asked that question. He said he thought he might like that job when he grew up. (He was about 11 then)
When he was about 16 he showed me an article in the paper about the Newark Museum purchasing a new Swiss projector for their planetarium which was the ultimate in new technology. It would synchronize sound tapes with any time date being projected. I did not think much more about it until he came home a few days later and said he got a job helping on the installation at the museum. He was taking the bus to Newark after school. After the installation was finished he was hired to work weekends and summer vacation to run the shows. This routine was not for him and he told the boss that he did not want to continue because of the long bus trips. He boss then agreed to pick him up at home and drive him back and forth. This only lasted a short while and his interest went elsewhere. He had little desire for monetary rewards-money was not important to him as long as the job was a challenge and to his interest.
When Montclair High School decided to install computers for their grading and scheduling Tom immediately became involved. Some how he got very friendly with the IBM installers while they were setting up the machines and systems. When it was started up, they had an instruction period for some teachers, clerks and other employees that would be working the system. IBM limited the amount of students that they would allow in their initial instructions. They used a lottery drawing to select the students and Tom was not selected. I called Mr. Stave to see if he could get Tom into the program. He agreed that Tom should be included but even he could not override the limited selection IBM had set. I told Tom what Mr. Stave told me. The next day he was entered into the class!! He had spoken to the IBM people and they added one more name!! He had an uncanny way of surmounting obstacles.
We were members of the Nutley Film Club and for many years we enjoyed the monthly showings of old silent movies in a converted garage in the back yard in Nutley, the home of Robert E. Lee. (That was his real name). He had a large library of old films and had an old gent playing the original music on a piano accompanying the film. Tom was fascinated with the music and the films. The old gent would play continuously for 2 and 3 hours without a break.
A friend, Al Weber, was building a large electronic organ in his home in Upper Montclair. It was from a kit. Al was an acoustic engineer and a talented singer. Singing in the Montclair Operetta Club and for various church choirs. His wife, Phyllis was a graduate of Juliard and a piano major. Al owned a lumberyard and had built his last two homes in Montclair himself. He invited me to bring Tom over to see the organ he was working on. It was not finished and Al was tuning it with an electronic device. Tom sat down and immediately began to play it, even though the three keyboards were just roughly laid out. He also told Al which notes were out of key.
They were both amazed. Phyllis said he could do more than she could after four years of Juliard.They both confirmed he had perfect pitch.
He had very acute hearing. As a small child he would cry and complain of noises in some stores. Later we found out it was the security systems the stores used with high frequency sounds that were " beyond human hearing" that bothered him. In the Radio Shack store in West Orange, Tom complained to me about the noise and I asked the manager to turn it off. He said it could not be heard. But when he switched it on and off Tom could tell, without seeing him switching. Neither the manager nor I could hear the difference. He could tell you the phone number someone dialed by listening to the tones of the dialing.
We were members of St. James church in Upper Montclair. Lillian and the three girls sang in the choir. Tom found an interest in the playing of the bells in the tower. By tradition they were only played by girls, Tom wanted to learn to play but could not get any co-operation from any one. It was impossible to practice in the tower, as the bells would be heard all over Upper Montclair area. So I built a full size mock-up, or replica, of the keyboard, or lever mechanismTom helped tune the aluminum plates that the hammers struck so you could hear what you were practicing. It is still at St. James and I only had to repair it once in the 20 some years it has been used. Soon he was playing the bells and he even had his friend Dave Lemkuhl playing in harmony with him. His youngest sister, Carol became a "Chimer" and played the bells for many years later.
One evening Tom did not show up for supper at our usual 5:30 mealtime. When he came in later he told us he had been riding his bike and had stopped at the Scientific Glass factory on Bloomfield. Somehow he met the president and asked about what they did at the plant. He was brought in and introduced to the head of the specialty glass manufacturing dept. and given a first hand tour of their operation. He did not want to leave early as he thought he was given a rare privilege.
I bought an advanced miniature printing press, complete with lead type and a hand crank that was capable of printing small products. Tom soon learned to set type and produced record labels and he soon started selling business cards around town. When he was about 15 he got a part time job after school in a print shop on Bloomfield Ave. When he applied for working papers, he was refused much to his boss' and his disappointment. NJ law considers printing too hazardous for children to work at.
He met a fellow who asked him to try selling ice grippers that fastened over your shoes with inner-tube-like fasteners. They had metal spikes on plates that fit under the instep of the shoes and worked very well on icy days. Tom sold many to members of the Montclair Police Department and also all the postmen at the Main Post Office.
Tom became an active volunteer with the Montclair Police Department. The police station was another stopping place on his way home from Middle School. He was a volunteer radio operator for the Emergency Management Group when they scheduled Civil Defense Disaster Drills. This familiarized him with many of the town's systems and functions.
One Spring, the town had an invasion of starlings. They were roosting in trees at night and making loud noises and their droppings were causing health hazards. The police tried firing pistol blanks near them, and the fire department tried hosing them down, but this only moved them to another part of town. Tom made some kind of a recording of bird-warning calls, which was played on a loud speaker truck and eventually they left.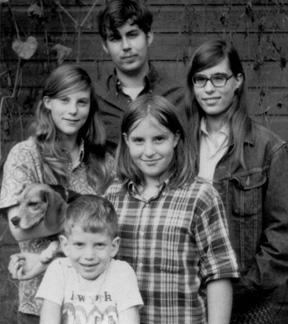 When Sandy was old enough to do babysitting jobs for people on weekends, we usually knew the people who hired her and stayed up until her return (before 12 o'clock). One night she was working for a new family and said she would call us for a ride home. The family name was Jones and Lill dropped her off on the corner of Valley Road and Chestnut Street. We did not hear from her by midnight and tried to find a telephone listing for a Jones that lived in Montclair using the phone book. We had no luck and were getting very concerned about how to get in touch with her. Tom came home and made a phone call to Montclair Police Headquarters and told the desk sergeant where to find the cross-index book that listed everyone in Montclair alphabetically and gave their addresses. When we got the address, we drove over to the place with Tom and found it was a six-family apartment with no names on the doorbells. At Tom's suggestion, we walked around the outside of the building, looking for a lighted window that appeared to have a TV on. We went in and knocked on the door. A frightened and worried Sandy answered and said the woman had not come home nor had she called. She didn't want to leave the three kids alone, so Tom said he would stay with her and walk her home -- about four blocks. They arrived shortly.
Tom took a test for enrollment to "College High School" at Montclair State Teachers College, (now a university). He received a high score, but the program was dropped because of the start of the "integration" movement to equalize opportunities for all students. The college decided to close the school, rather than use a lottery system of admission. We were disappointed, because we thought he would do well with the small class sizes and the exceptional teaching system that was very responsive to gifted students.
He enjoyed taking 8mm movies of our vacations and used a lot of trick photo methods that were great. He did a high school project, of 42nd Street as a documentary that gave him praise and a high grade. He went to various buildings in NY City and talked his way into offices overlooking 42nd Street and got some unique shots. Once while in NYC at an early (5 am) hour, he talked his way into the studio of WOR broadcasting and got in to meet Peter Roberts and John Gambling while they were broadcasting the "Rambling With Gambling" show. On one of his NYC trips he visited NY University and somehow managed to get a pass or card that enabled him access to their computer facilities. (This was a time when only large corporations or colleges had computers.) This came in handy when Montclair High School's computer system crashed just when report cards were due to be awarded. The teachers in charge at Montclair tried to get help from Montclair State College but had no success. Tom suggested NYU and they said OK, but only someone with an access card would be allowed to use their equipment. Tom went to New York City and was able to complete the task. Mr. Stave, the principal, praised him but he did not endear himself to the computer staff at the high school. He did this sort of thing without any thought other than it was a challenge and he was being helpful.
After high school he enrolled in RCA Institute NYC, but only stayed a few months because he said, "They were not teaching right, and he was not learning anything new".
He got a job as a recording engineer at Variety Recordings NYC, with the use of the facilities early in the morning hours when the studio was not busy and the various bands and entertainers were free from work and wanted recordings made for themselves. The Public Service buses stopped running at 11:00 PM and he often slept at the studio overnight. He was soon very well liked and was getting a good following because of his musical knowledge and talent and his ability to work with the recording equipment. After he left for England, we were called by some law firm that wanted to contact him because he was the person who had recorded a theme played on a MOOG synthesizer of PD Bach. This Ping-Pong song was used extensively for the background of a very popular coffee commercial. He never learned that his recording became famous.
Magnetic Recordings in Paterson, NJ hired him to help with the installation of sound and recording equipment. He was assigned to work on the installation of a very extensive system in the home of Les Paul and Mary Ford. Next, he found a job with Ron Globus at the Museum of the Media in NYC. Tom worked on an exhibit being made for the US Department of Commerce showing the US use of container shipping. He was sent to Washington DC to help set up and monitor the display. He was supposed to be there for a f ew days, but did not return home for a week. His boss did not know were he was until he finally arrived home. He told us he met a lady from the Commerce Department who invited him to stay at her home while he toured Washington DC.
Later on the Department of Commerce asked the Museum of the Media to prepare the exhibit to be sent to Russia for an International Fair in Leningrad. The recordings had to be retaped in Russian. I warned Tom that the electricity supplied in Europe used 50 cycles and not 60 cycles and the tapes and slides might not synchronize. They completed the project and it was shipped to Russia. Tom was in high hopes he would be sent over too, but only the boss went. Later, as I was leaving for work one morning, I heard Tom's phone ring about 6am. While I was having breakfast he came down and told me the call was from his boss in Russia and he wanted him to come to Russia the next day because they had problems. He asked if it was OK to go because he was to leave right away. I said, "Sure, but you will need a passport and maybe a visa, and you can't get them in one day". I suggested he contact the Russian Embassy in NYC. He arrived home that night with a passport and plane ticket and left for Russia the next day. He had taken a train to Washington and looked up his friend in the Commerce Department and she took him around Washington to all the places to get the necessary papers.
Tom left on September 1, 1972, for Russia and stayed until September 22. After four weeks we called his boss and asked if he knew where Tom was. He had no idea, saying that Tom had a round-trip ticket from NYC to Leningrad. He thought Tom was at home because the show had ended in Russia. In about the fifth week, his boss called us saying that he had received a telex from Heathrow Airport in London, requesting he send a ticket for Tom to return to the States. Mr. Globus said that he had already paid for Tom's return (round trip fare) trip and was not going to send him another. I called our Montclair travel agent and explained the problem, gave them a credit card number and they said they would contact Heathrow. They called me back to inform me what flight Tom was on and told me they did not have to purchase a return ticket for him. When I checked the arrival time, he was already on a flight arriving in NYC in about four hours. On October 8, 1972, I picked him up at Idlewild (Kennedy) Airport and I don't know how he got through Customs. His one bag was full of electronic gear and Russian telephone parts. He explained his delay in returning home as follows:
After solving the problems on the US exhibit he had little to do, so he visited all the other international exhibits. The only other English-speaking people he met were the engineers at the Great Britain booth, who were having problems with their display. Tom apparently helped them and became very friendly with them. They invited him to stop in London on the way home from Russia and visit them for a while. His plane ticket was a "Youth, Special Fare", which did not allow stopovers. Somehow, he managed to get to London with it and stayed with his new friends for a two-week visit. When he went to Heathrow to return to NYC and presented his ticket, the desk clerk told him it was invalid and he needed to buy ticket for a one-way flight to NYC. Tom asked them to telex his boss for the money, which they reluctantly did. He got no immediate answer and while waiting, fell asleep in the waiting room. When he awoke, he saw that a different clerk was at the desk. He presented his ticket and was given a seat assignment and boarding pass for the next flight to NYC. (That is why my wired ticket was unnecessary.)
While he was visiting his English friends at their workplace, a man, Peter Marsden, came in and inquired about hiring someone to help him in his business. He wanted someone with knowledge about American electronics and Tom seemed to meet his needs. He authorized Tom to hire an assistant and gave him instructions to purchase used equipment in the US and ship it to him in London. Part of the job would be installing video surveillance cameras (a new application in England in 1972). When he got home, Tom talked this over with me and asked for my permission and help. I thought that since he did not want to go further in school, he could learn more about running a business. Particularly, if he failed in England, it would not affect his reputation. If he succeeded, it would look good on his record.
He hired Dave Peterson (a friend from Montclair) who was very knowledgeable about electronics to join him in this venture. They went to Canal Street in NYC and bought enough electronic and video equipment to fill two large shipping drums that I obtained from work. I tried to get all information about the requirements for shipping the drums to London. At my company, Driver Harris, who make overseas shipments regularly, the shipping men said it would take weeks to get clearance and paperwork approval. Tom sent them in two days! ? Dave and he left November 2, 1972. This was the last time we ever saw Tom.... He was 17 years old at that time.
I took them to the airport with their luggage and one suitcase was full of large cans of ketchup. Tom said England had lousy ketchup and all the Americans were always trying to buy US ketchup.
At Christmas, 1972, Dave Peterson returned to Montclair. We talked to him about their life in London and he said Tom had changed jobs after a short while and Dave decided not to stay in England. The next day we heard from Dave saying the airport had informed him that he should pick up a suitcase which was delayed in arrival. He said it wasn't his luggage, but thought Tom had sent it. Lill went with Dave to claim it and it turned out to be a suitcase full of Christmas presents for our family.
---
Last revision: Saturday, January 6, 2007 at 12:25 AM