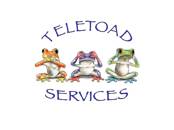 TELETOAD SERVICES, LLC
TELECOMMUNICATIONS CONSULTANT
3337 VALLEYVIEW BOULEVARD
SAN ANGELO, TEXAS 76904
(325) 942-1140 Office/Fax
(325) 650-4011
Contact: Ted Langmack
Teletoad Services, LLC Provides:
Trouble Analysis and Consulting:
á Microwave & Multiplex Equipment Trouble Support – all brands.
á Antenna System Trouble Support 450MHz to 26 GHz.
á Path Alignment and Path Propagation Trouble Support.
á Fiber Optic, DSX Interconnect, and Digital Cross Connect Support.
Preventative Maintenance:
á Full Routine Maintenance Services for all Transmission Equipment.
Site Audit Services:
á For Engineering and Operations Department inventory or upgrades.
á To identify trouble, faulty cabling, wiring, or connectors, or equip.
Rehabilitation Services:
á Verify and Re-work existing installations that are not meeting Spec.
á Re-work to meet Standard error rate and waveshape requirements.
Installation and Supervisory Services:
á For All Types of Transmission Equipment. MW, F.O., Mux, DSX
á For all MW, F.O., Mux, DSX, and Transmission Equipment.