Neuhaus "Standard" for Interconnection of Serial Devices
RJ45 8-pin modular connectors for RS-232


MODULAR ADAPTER DB25M TO RJ45
Cyberguys item no. 131 2070


MODULAR ADAPTER DB25F TO RJ45
MilesTek item no. 10-01045
RJ45 8-pin modular to D-sub adapters are widely available for about $2 and are convenient for RS-232 connections. If you have a number of serial devices with different pin-outs, you can make adapters so that any device can easily be connected to another device. These universal adapters are particularly handy for devices such as hubs or controllers that only occasionally need to be connected to a terminal.
All devices are wired the same at the modular jack and the flat modular cable flips the connections. This way, any device may be connected to any other device, regardless of whether it is DTE or DCE.
The RS-232 signals are assigned to pins in the modular plug and jack as follows:

Pin
Color
Signal name
Remark
Signal source
DTE (computer or terminal)
DCE (modem)
1
Blue
DTR, HSKo
CD
Data on pin 3 is valid
Jack
2
Orange
RTS
CTS
I am ready to receive on pin 6
3
Black
TxD
RxD


4
Red
Gnd
Gnd


5
Green
Return, Gnd
Gnd


Plug
6
Yellow
RxD
TxD


7
Brown
CTS, HSKi
RTS
OK to send on pin 3
8
Gray
DSR
DTR
Data on pin 6 is valid



The modular plugs are installed on the cable so that the connection is "flipped." When the plugs on the two ends of the cable are held next to each other, the order of the colors is reversed.
---
Where two wires are connected together in these wiring diagrams, solder or crimp the connection.
PC serial connections
| | |
| --- | --- |
| | |
| 9-pin | 25-pin |
---
Macintosh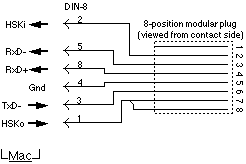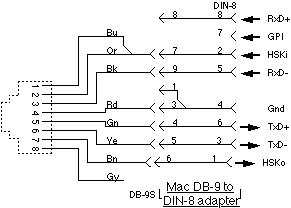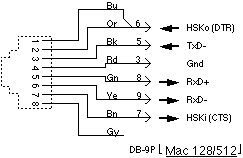 More details on making RS-232 connections to Macs.
---
Modem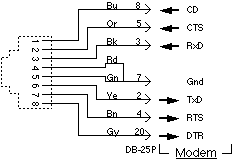 Do not use this pin-out for connecting a modem to the AUX or console port on a Cisco router. Use this pin-out.
---
HP Printers and Plotters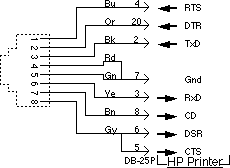 At the computer end of the serial cable, HP recommends that the DSR and CTS inputs of the computer should be driven from the printer's DTR output.
---
Wyse and DEC terminals
You can connect to a Wyse or DEC terminal if you cut the connector off a DEC MMJ cable and attach a RJ45. In this one case, the cable should be wired straight through, not flipped. The serial jack on a Wyse terminal is shown here: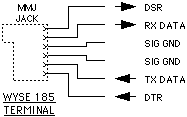 ---
Lucent MPEG-2 Digital Video System
Control connection on NIM-I/O Board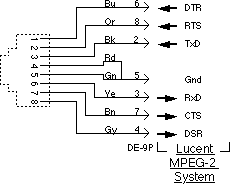 This is an example of a device which is pinned for connection to the 9-pin port on a PC with a pin-for-pin cable.
---
Other equipment:
---
Tomi Engdahl compiled a page detailing various "standards" for the pin-out of the modular connector. One such standard is the Yost Serial Device Wiring Standard, which is similar in concept, but not pin-for-pin compatible, to what I have detailed here. The Comtrol Rocketport serial card uses the RJ-45 with another pinout which is described by Jim Price.

Please send your comments and suggestions.
John Neuhaus, WA2JXE
john at jneuhaus.com
Last revised: Tue, Mar 27, 2007